Registration
For those attending the beatification, registration will open on June 5th, through the official web page of the beatification: www.alvaro14.org.
The reason for registration is to help in the organization of the ceremony. By knowing how many visitors to expect, it will be possible to prepare the site so there is sufficient room and enough large format screens for everyone to be able to view the ceremony in comfort. The information obtained will also be passed on to authorities to help in the flow of traffic.
Registration is free. The registration system will be self-explanatory and it will be possible to register as individuals or as groups; in the latter case, a list of names of the people in the group will be required.
Access to the different zones
Distribution of individuals and groups will be done through registration. Precedence will be given to visitors from foreign countries, especially to those from different continents. Once registered visitors have been allocated their zones, unregistered visitors will be given theirs. It is possible to attend the ceremony without being registered, but priority will be given to those who have registered through the web pages.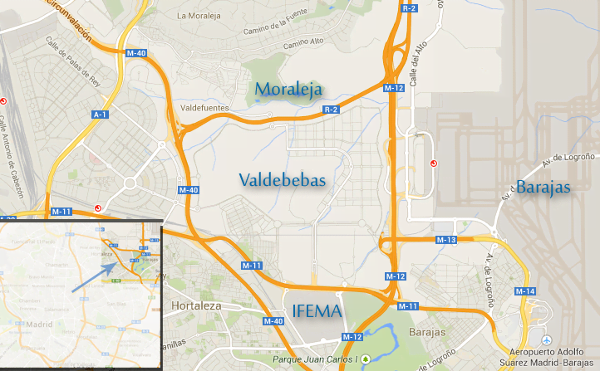 Transport
Four means of transport will be available to reach the site at Valdebebas, northeast of Madrid:
—public transport: shuttle buses will connect the nearby subway and commuter train stations with the site of the ceremony.
—private coach: a large parking area for coaches will be provided which is only a few hundred meters from the site.
—subway: the nearest subway station is approximately 2 kilometers (1.6 miles) away, so those who choose to do so can walk the rest of the way.
—bicycle or taxi: an unguarded area will be available to leave bikes. For those who plan to arrive by plane at the nearby Barajas airport on the morning of the ceremony, an area will be made available for taxis to drop passengers.
Public transport or private coaches are strongly recommended and those who wish to arrive by car should be prepared to park their vehicles near the points from which the shuttle buses operate.
Donations.
Attending the beatification is totally free of charge and there is no registration fee. However, registered visitors will be asked to consider making a contribution towards the expenses involved in the organization of the ceremonies. A specific amount of 20 euros per person is suggested.
The contribution is completely voluntary, and people can give less or more or choose to give nothing. Donations can be channeled through the registration pages or they can be made by bank transfer (see the section "How to help" at www.alvaro14.org). Donations can be made not only by visitors but also by people who are unable to attend but who want to help.