On Wednesday, April 1, the 2,500 university students taking part in the 48th annual UNIV Forum in Rome attended the general audience with Pope Francis.
At the end of the audience, the Holy Father greeted the young people from UNIV and encouraged them (citing words of Saint Josemaria) "to grow in friendship with our Lord, because what we need is not a comfortable life but a heart in love."
In his general audience the Pope said: "During these days of the Sacred Triduum, let us not limit ourselves to recalling our Lord's passion. We need to enter into the mystery, making our own his sentiments, his attitudes, as the apostle Paul invites us to do: 'For let this mind be in you, which was also in Christ Jesus' (Phil 2:5). Only then will we truly have a happy Easter."
At the end of the audience, university students representing UNIV Forum 2015 gave Pope Francis a painting of the flight of the Holy Family into Egypt, to show their solidarity with the Christians suffering persecution in various parts of the world. During the Forum a collection was taken up among the young people for the persecuted Christians in the Middle East, destined specifically for the refugees in Lebanon.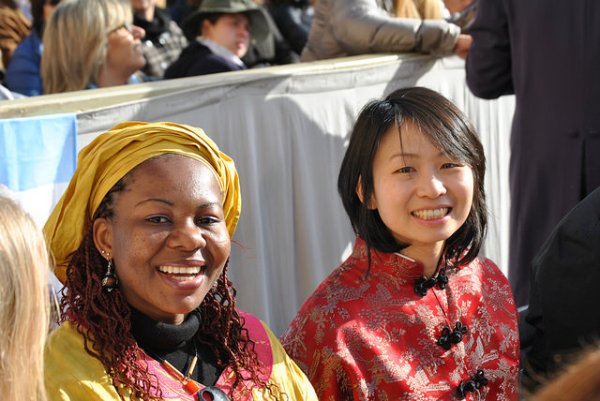 Saint Josemaria, founder of Opus Dei, used to tell young people that humanitarian aid "can never replace the effective tenderness of direct, personal contact with our neighbor: with that poor person living in a nearby district; with that sick person suffering in an immense hospital; or with those who need a bit of affectionate conversation, a Christian friendship to overcome their solitude, spiritual support to remedy their doubt and skepticism."
Vatican Radio's summary of Pope Francis' April 1 general audience
"Friendship: model for a new citizenship" (UNIV Forum 2015 website)