LATEST
► This Sunday is the Feast of the Most Holy Trinity: LISTEN to a commentary on the Gospel for this major feast day.
► In his June 3rd General Audience, Pope Francis continued his catechesis on prayer, focusing on the "the prayer of Abraham."

► No Small Goals: The Life of Dr. Ernesto Cofiño is a new biography of Ernesto Cofiño, a faithful of the Opus Dei prelature from Guatemal, whose cause of canonization is underway.
► Holiness Through Work (2020) is a book offers reflections on the sanctification of work and includes a transcript of a discussion between university professors and Monsignor Ocáriz, the Prelate of Opus Dei.
► God's Books: What is the relationship between Sacred Scripture and the Church's Tradition? "The Bible did not 'fall' directly from heaven, but it is the Church who presents it to us, assuring us that God speaks to us today through Sacred Scripture."

► Don't miss the latest episode of the Corona podcast: an interview with Dr. Karen Bohlin, head of the Montrose School near Boston, Massachusetts, on how we can re-imagine our dreams in a time when planning for the future seems useless:

► Audio Meditation of the Prelate: "Mary's Friendship": In this second audio meditation for the month of May, Monsignor Ocáriz recommends looking at Mary as a model of how to be a better friend:

---
FOLLOW THE POPE
► Letter to All the Faithful for the Month of May: Pope Francis is inviting everyone to pray the Rosary with special devotion during the month of May, and offers two prayers to our Lady that can be recited after the Litany.
► Holy Week with the Pope: Homilies, Videos and More
► FULL TEXT of Pope Francis' emergency "Urbi et Orbi" Meditation
► This link is updated every week with the Pope's general audience on Wednesdays.
► At this link, you can always access the following (all times Rome time): the Pope's general audience (every Wednesday at 9.30 AM) and the Angelus (every Sunday at 12 noon).
► Latest updates about the Pope.
---
FROM THE PRELATE
► Monsignor Fernando Ocáriz speaks about Saint Josemaria's pilgrimage to Our Lady of Guadalupe in Mexico in May 1970 to pray for the Church and the whole world:

► Letter from the Prelate (15 May 2020): As the lockdown begins to be lifted in many places, Monsignor Fernando Ocáriz encourages us to show others the attractiveness of being Christ's disciple with our own lives.
► Audio Meditation of the Prelate: "Mother of God and our Hope":
► Letter from the Prelate (29 April 2020): "I especially ask you that, in these visits to our Mother, you keep very much in mind the intentions that Pope Francis expressed to us in his letter on April 25th. There he invites us to rediscover the practice of the family rosary and to continue asking for the end of the pandemic and for our Lady's protection for those who are suffering most intensely."
► Easter Video-Message from the Prelate of Opus Dei.
► Letter from the Prelate (April 1st): With Holy Week only a few days away and amid so much suffering, Mons. Ocáriz invites us to look at Christ on the Cross, who is the source of our hope.

► A message of encouragement from Mons. Fernando Ocáriz in light of the pandemic.
HOLY MASS

► Here are some links to online Masses which may be useful while there are no public Masses in churches.

► 6 tips for living the Mass better under the present circumstances.
► A reflection on the spiritual communion that Saint Josemaría often prayed.

UNDER EXTRAORDINARY CIRCUMSTANCES
► The Fundamental Right to Hope: Pope Francis said in his homily at the Easter Vigil: "Jesus' hope is different. He plants in our hearts the conviction that God is able to make everything work unto good, because even from the grave he brings life."

► Many are having difficulty accessing the sacraments. Here is an article to help you work through this situation: Confession: a God Who Runs to Meet Us.
► Note from the Apostolic Penitentiary on Confession about the gravity of the present circumstances.
► Decree of the Apostolic Penitentiary on the possibility of special indulgences to the faithful in the current pandemic.
► What is a Plenary Indulgence? #Covid-19

---
ACCOMPANY THE SICK
► Prayers to Pray with the Sick: A free booklet that provides helpful reading and prayers for family and caregivers of those who are dying or gravely ill.

► This Novena for the Sick is a way to pray with Saint Josemaría for all those who are suffering illness.
► Caring for the Elderly When They Need It Most: Reflections about taking care of people who are transitioning from independence to assisted living, either at home or in a facility.

► Ideas from Pope Francis about caring for the sick in our families.
INSPIRATION FOR MAKING GOOD USE OF TIME
► "What more can I do?": As we face a global health crisis, we may find ourselves feeling helpless or at a loss about the best ways to respond or react. What difference can one person really make to improve such a complex situation? The example of Joanna from Singapore shows that knowledge of one's personal circumstances, a network of good friends, and a bit of initiative can go a long way.

► The Creativity of Love: From the Philippines to Argentina and Poland, these stories are just a sample of where creativity at the service of charity can lead us in our current adverse circumstances.
► The "Covid Backliners" A husband and wife team in the Philippines coordinate an emergency supply chain of food and medical supplies to support their local hospitals and essential services. It all began with a simple question: what can we do to help?

► A Wedding During the Pandemic: An uplifting story about a couple who decided to still go ahead and get married despite the lockdown forcing them to reduce their wedding guest list to four people.
► St. Josemaria: Tips For Getting Along: Maintaining family peace is not always easy if you have to spend 24-hours under the same roof. Here's some food for thought from the "saint of ordinary life".
► Ideas for supporting one another and maintaining friendships at a distance.
► Five Remedies Against Sadness. We have all been sad at one point. Is there a trick for overcoming sorrow and recovering our smile?

► Snow-covered Volcanos: Did you know Saint Josemaria spent months in forced confinement during the Spanish Civil War?

► Podcast for young people: Listen to fellow peers who are finding ways to take advantage of this period in the best possible way. Tune in now to Corona: Use it, Don't Lose it.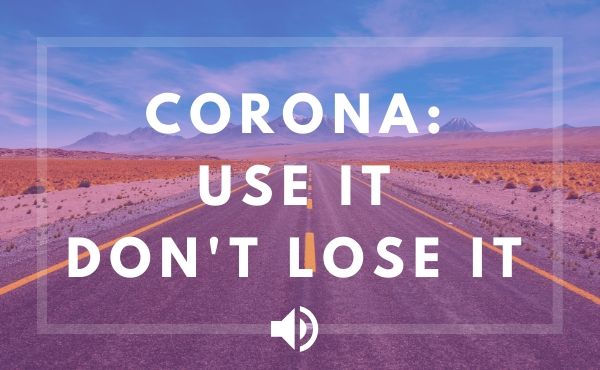 ---
AUDIO MEDITATIONS
► A selection of meditations by different priests of Opus Dei to "inflame" your prayer, wherever you are.
Looking for shorter options?

► 10 Minutes with Jesus: Daily podcast reflections to inspire your prayer.
GOSPEL COMMENTARIES
► Here you can read a commentary on Sunday's Gospel.
---