On his third and last day in Uganda, Msgr. Ocariz had a get together with a group of his daughters. Ululations pierced the air at his arrival and all raised their voices in the Luganda heartfelt song of welcome, 'Tukussanyukidde!' The Prelate commented on the approaching feast of the Nativity of Our Lord, encouraging those present to look at the Christ child and see reflected in Him, the infinite love that God has for each one of us.
Tish, referring to what St. Josemaría used to say; that we owe 90% of our vocation to our parents, asked to whom we owe the other 10%. This provoked great laughter in the audience. The Prelate emphasised that vocation depends above all on the grace of God. However, he clarified that there is a part that depends on each person, on their good disposition to receive this grace from God. And within this, 90% of everything that prepares us to receive the grace of vocation comes from our parents, from the way they bring us up. The other 10% will depend on the environment, on our friends and on the education we receive.
Jacinta, a trainee at Pearlcrest Hospitality Training Institute who recently asked for admission to Opus Dei asked what the secret of perseverance is. The Father explained that the secret of perseverance is what St. Josemaría would say and which is written in the last point of The Way: Love. "Fall in love and you will not leave Him". This love should not be mere sentiment but a deep conviction that God loves each one of us personally and of his will that we should be faithful to our vocation knowing that this vocation is our happiness. Even when it is more difficult to follow this path, even then, God will give us his grace, his strength. He encouraged her to take this point of The Way frequently to her prayer and to ask God to increase his love in her heart always.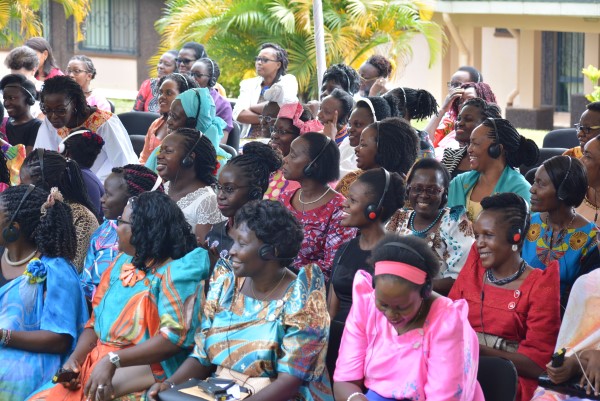 After the get-together, the Prelate met Mrs Edith Katama, the first Supernumerary woman from Uganda, as well as different families. He spent a few minutes with each family, most of whom had brought him a gift. It was a moment of great joy for all. After greeting all the families present, Monsignor Ocariz gave them his blessing.
In the afternoon the Father met His Grace Cyprian Kizito Lwanga, the Archbishop of Kampala, who thanked him for the Christian influence that the members of the Prelature and those attending means of formation have in his diocese.
Follow us on Twitter.